Maintaining a clean and tidy carpet is not always easy due to various elements that affect its appearance. With regular foot traffic, soil and waste from shoes may accumulate causing undesirable effects on the overall look of your carpet. Apart from that, pet hair and dust particles also pose as culprits contributing to this issue not to mention spills resulting in stubborn stains. Fortunately, GS Murphy team of adept technicians possess the specialised tools required for restoring cleanliness back into your carpets and upholsteries bringing it back to life again. Plus point is that you need not wait hours anymore because, upon completion of our service, you can immediately walk on it! Give our professional carpet cleaning services in Rouse Hill a chance by contacting us today at 0272255086.
Safe and Sanitized: Carpet Cleaning During COVID-19 – A Comprehensive Guide
Download
Indicators of a Dirty Carpet: Spotting the Signs for a Fresh Start
Have you noticed any evidence of a dirty carpet in your home? Here's how you might recognise it:
Spills and accidents leave visible stains and marks on the surface.
Areas of discolouration appear duller than other parts thanks to accumulated dirt.
Unpleasant smells signal an uncleaned spill or accident has been absorbed into the fibres.
Increased allergies – irritable eyes or respiratory difficulties – could also mean issues with pet dander, pollen particles or dust mites.
Those who suffer from asthma might experience worsened symptoms due to innate build-up elsewhere.
Some carpets might develop matting due to embedded debris; this can be easily prevented through vacuuming/cleaning on a regular basis.
Lastly, when fibres accumulate on furniture surfaces like clothes it's obvious that your carpets need more thorough attention!
To maintain a clean and healthy carpet, make sure to vacuum regularly, clean up spills promptly, and schedule professional carpet cleaning periodically to remove deep-seated dirt and stains.
The Benefits of Hiring Professional Carpet Cleaning Services in Rouse Hill
Ensuring a clean environment at home requires frequent attention to various aspects such as hygiene including maintaining clean carpets whether you are based in Rouse Hill or anywhere else. Some of the top benefits of carpet cleaning are listed below:
Removes Odours and Stains
Professional carpet cleaning comes to the rescue when your carpet has grown annoying smells or stains Through professional cleaning your carpets may be left fresh and clean by getting rid of these.
Improves Indoor Air Quality
Carpets are notorious for trapping dust and allergens which can lead to poor indoor air quality; however regular cleaning can reduce their impact.
Prevents Mould and Mildew Growth
Mould growth can be triggered by not cleaning your carpets effectively, but by having your carpets cleaned regularly by professionals you can avoid this issue.
Enhances Overall Appearance
The act of cleaning and sanitising your carpet can have a positive impact on your living space by creating an inviting atmosphere while enhancing its appearance. Overall, carpet cleaning is a crucial part of home maintenance that can benefit your health, home, and wallet in numerous ways.
Increase Carpet Lifespan
If you do not maintain the cleanliness of your carpets by removing dirt and grime regularly, it might potentially deteriorate their fibre quality leading them to become thin or frayed. Therefore, if you want to extend the life of your carpet, regular cleaning to remove these particles is essential.
By choosing professional carpet cleaning services in Rouse Hill for your home or business, you can experience a dramatic improvement both visually as well as environmentally. Say goodbye to allergens & contaminants affecting air quality leading to various respiratory illnesses.
Choose GS Murphy Carpet Cleaning for Exceptional Carpet Cleaning Services Rouse Hill
Exceptional Cleaning Results: Our expert technicians know how to deliver the most effective carpet cleaning services using only the best equipment and techniques available. Whether its dirt or stubborn stains you need removed our team is dedicated to leaving your carpets in tip top shape – looking clean, polished, and allergen free. Professional and Reliable Service: Expect nothing but professionalism when you choose our reliable services; we always arrive on time with courtesy committed to exceeding your expectations. Our service ensures that you have a trouble-free and straightforward journey right from commencement to completion. Safe and Environmentally Friendly Practises: Our top priority during carpet cleaning sessions is to employ safe and environmentally friendly methods. Using ecofriendly cleaning products reduces harmful effects on our surroundings while providing effective results.
Customer Satisfaction Guarantee: Our capable team will tailor make our services based on your specific requirements for optimal efficiency. We take pride in providing excellent customer service that goes beyond meeting basic expectations; making our clients happy drives us towards excellence continually. Share your thoughts with us on how we can improve the quality of service provided; helping people build long lasting relationships with us fosters business growth and contributes positively to society! Wide Range of Services: You can trust us to adhere to these practices while cleaning ensuring a clean space without compromising natures balance. With an impressive list of services ranging from routine carpet maintenance to specialized cleaning procedures like deep stain removal and odour elimination rest assured that we can tackle any challenge thrown our way efficiently. Experience firsthand how we can restore the cleanliness and beauty of your carpets. To learn more about our comprehensive suite of professional carpet cleaning services in Rouse Hill get in touch with us today.
Our Comprehensive Carpet Cleaning Services for Exceptional Results
We employ various carpet cleaning methods at GS Murphy to ensure high-quality services for our valued customers. Understanding that each carpet is unique and requires specific techniques, we offer the following methods:
Carpet dry cleaning Rouse Hill
Dry cleaning is considered among the most popular approaches when it comes to getting carpets freshened up fast. At GS Murphy our carpet cleaning Rouse Hill services also offers our customers the carpet dry cleaning method. This involves using a powder-based cleaner that traps dirt and debris before practitioners remove it with the aid of powerful vacuuming equipment.
Carpet steam cleaning Rouse Hill
Another preferred technique is carpet steam cleaning in Rouse Hill. Specialists use hot water and detergent to break down murky build-up on the carpet fibres. However, drying times may vary based on the area covered by the process. Price considerations may increase for tougher stains or larger areas.
Stain Removal and Spot Dye Rouse Hill Services:
We understand that different scenarios can lead to carpet stains, which can be difficult to remove. At GS Murphy, we provide specialised removal and spot dye services. Our experts utilise advanced techniques and top-tier cleaning products specific to each type of stain, including tough blemishes caused by wine spills.
Pet Urine and Odour Treatments:
Pets are an integral part of the family, but accidents involving unpleasant smells or stubborn stains can occur. To address these situations, we offer customised treatments designed for pet urine and odour removal. Our skilled experts use high-quality products and the latest methods to effectively eliminate any unwanted smells and stains.
Water Damage Wet Carpet Rouse Hill
When water damages your carpets in the Rouse Hill area we are here to help, let our experienced and reliable team take care of it. At GS Murphy, we understand how frustrating it can be when your carpets get wet due to flooding and leakages, and our primary objective is to provide effective and efficient solutions through our exceptional water damage restoration services. After extracting water from damaged carpets with our specialised equipment and thoroughly drying them out our technicians work on restoring the carpet's original condition.

When considering carpet cleaning services in Rouse Hill, remember to carefully assess your unique cleaning needs for both domestic and commercial purposes. Choose our team today and put your home or business on the path toward enhanced comfort and heightened appeal!
Carpet Cleaning Tips for Specific Scenarios

Carpet Cleaning for Allergies and Asthma
If you have asthma or allergies, it is important that you keep the carpet in your home clean as this can aid in reducing allergens thus improving indoor air quality.
Carpet Cleaning for Pet Owners
Enzymatic cleaners and hot water extraction are two specialised cleaning methods that work very well for removing unwanted pet odours from carpets.
Carpet Cleaning for Commercial Spaces
To upkeep the cleanliness of carpets within a commercial setting one may opt for regular professional carpet cleanings along with daily spot cleans. Additionally, the use of walk-off mats may also prove beneficial.

Carpet Cleaning for High-Traffic Areas
It's important to keep high-traffic area carpets hygienic by regularly vacuuming them along with promptly cleaning up any spills or stains. Professional cleaning services are also advisable on a regular basis.
Avoid These Common Mistakes When Cleaning Your Carpets
To keep your carpets in good condition over time, it's important not to make some common mistakes during cleaning
Using harsh chemicals is one such mistake – these agents can harm carpet fibres by causing discolouration or fading while attracting yet more dirt on top of any residual grime left behind.
It's also hard on carpets when you scrub them too much- doing so may result in damaging their fibres or spreading stains further into the material itself which further compounds the problem.
Another issue is using too much water; this not only increases waiting times but presents a risk of mould growing or harming the carpet backing itself through seepage into underlying floors or subfloors below where it cannot be seen easily.
Don't skip professional carpet cleaning either- dirt and stains accumulate faster than you might think- cutting the lifespan of your carpet fibres drastically along with affecting overall texture and appearance negatively
Committing to these general mistakes will negatively impact your carpet's appearance & integrity., but actively avoiding them will help ensure your carpets remain clean, fresh and new looking, long after you first bought them.
Comprehensive Cleaning Solutions: Carpet Cleaning and More with GS Murphy
The team at
GS Murphy
is committed to providing our clients with outstanding carpet cleaning solutions that exceed their expectations. We understand that managing overall cleanliness in your home encompasses more than just clean carpets and therefore offer a variety of supplementary services tailored specifically for this purpose.
Our fabric sofa cleaning & protection service guarantees allergy-free sofas free from dirt or unsightly stains while preserving their beauty for years ahead! On top of this; our experts specialise in restoring the natural appearance & durability of leather furniture with leather cleaning & protection services. Moving further along: That being said- Our tile & grout cleaning service effectively restores tile surfaces' ageless gleam & scours out lingering fungi or dust buildup. With our superior anti-allergen cleaning; we take care of breathing issues caused by allergens and dust mites while guaranteeing pollutants disappear from indoors!
All these added features combine into giving you overall comprehensive cleaning solutions with one-stop pit stops at GS Murphy! No more delays on an exceptionally clean interior – call us today, and open your doors to a fresher, healthier environment!
Visuals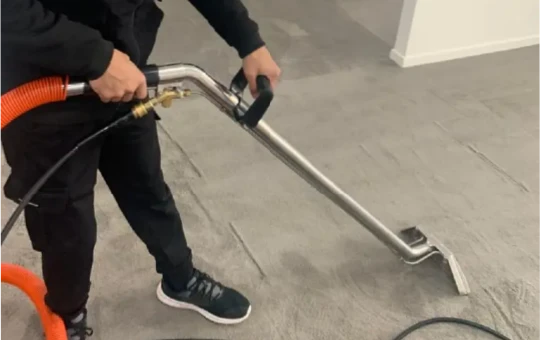 We are Professional and Qualified Technicians!

Related Frequently Asked Questions
How often is it recommended to schedule a professional carpet cleaning?
To ensure clean carpets it is recommended that you get them professionally cleaned once per year.
What are their preferred methods of carpet cleaning?
The process of using techniques including steam-cleaning and dry-cleaning are common practices for expert carpet cleaners across Rouse Hill
Should I be worried about the safety of my family members and pets when hiring a professional carpet cleaner?
Safety is a top priority for professional carpet cleaners in Rouse Hill who use green products that won't harm humans or pets.
GS Murphy Carpet Cleaning Prices
| ROOMS | PRICES |
| --- | --- |
| One Room | $99 |
| Two Rooms | $110 |
| Three Rooms | $125 |
| Four Rooms | $145 |
| Five Rooms | $165 |
Other Prices
Stairs are $3.90 each, $6.90 for double width
Stain removal from $22 for tea/coffee, up to $60+ for tougher Stains
Rugs for $35 for small, up to $100+ for gaint rugs
Upholstery is $36 per seat space for modular, $58 for armchair or recliner
GS Murphy Carpet Cleaning Rouse Hill is perfect for people in:
Carpet Cleaning Balmoral
Carpet Cleaning Beauty Point
Carpet Cleaning Clifton Gardens
Carpet Cleaning Georges Heights
Carpet Cleaning Spit Junction
Carpet Cleaning Clifton Gardens